UPDATED: 2020/12/03
We are accepting membership RENEWALS NOW.
The new Online paperless, credit card only,  system is now open to members to renew their membership. Check your email for the latest E-Newsletter  sent out this morning with the online system link.
The membership renewal discount has ended. Please send ALL renewal forms, payments and questions to renewals@ltvfg.ca only.
Renewal forms are MANDATORY if you are NOT using the new online paperless renewal system. Do not just send in your EMT without sending in the form as your renewal will NOT be processed until ALL required information, forms and picture if required as been submitted to renewals@ltvfg.ca. Please check your interact money transfer setup with your online banking to verify the EMT email address for the club. Some members are using the old GMAIL email address which is no longer valid. 
If we can not process your renewal by November because YOUR failed to submit the payment or the renewal form you will loose the November discount price.
 Also if you do not have your 2020 photo ID card or your access card for the front gate, this means you did not complete your 2020 membership renewal. Your membership will soon be revoked and you will have to rejoin the club using the waiting list process.
Below is a picture on how to digitally sign the online renewal form after you have downloaded and filled it in.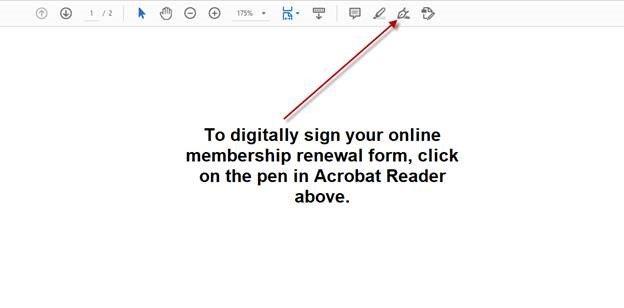 Click HERE to download the 2021 Renewal form.
COVID-19 Update
Face masks, are MANDATORY if you are entering the club house for any reason. If you are using the indoor ranges you must wear a face mask at all times. 
If you are sick, or have recently been sick, DO NOT come to the club.
Maintain distance a safe between yourself and others that may be using the facilities.
Sign in at the range you are shooting on. Please avoid the clubhouse if possible.
Please bring your personal masks, sanitation gel and wipes with you.
Gathering limitations imposed by the State of Emergency are still in place, access to the club is still limited

.
All guest fees, pop fees and any donations received between Nov 1 and Dec 15 will be DONATED to the local FOOD BANK.
Feel free to dump your spare change in the drop box.
Next General Workday is Sunday December 27 from 08:00 to 12:00
Watch the website, calendar and Facebook page for more details as they happen. Volunteer hours are a GREAT way to support your club.
Announcements
None at this time.
Range Updates:
Indoor ranges #9 and #10 will be closed Wednesday December 2 from 08:00 until 12:00 noon or until work is completed, whichever occurs first. We are removing the old shooting booths on Range #9 (right side) and installing 2 of the new shooting booths. We are also modifying, time permitting, a shooting table on Range #10 (left side). These updates are to move our club forward with more accessible shooting.
We are one of the best shooting and archery clubs in the province
Lower Trent Valley Fish and Game Club boasts five outdoor ranges for rifles and handguns ranging from 25 to 200 yards, a skeet and trap field, sporting clays, a 50 yard archery range and trail with 3D targets, plus indoor facilities for small bore rifles and handguns.
We also host numerous competitive events throughout the year such as IPSC, iCORE and Precision Rimfire matches.
Want to come shoot with us?
Want to join Lower Trent Valley Fish and Game Club?  Get all the information you need on our membership page.